Education and Research
ISPO CAT II DPO
Prosthetics & Orthotics (ISPO CAT II) 
Durations: 36 months
Eligibility : 
Indian Students: Have successfully completed 12 years of schooling with any stream with 50% score
SAARC/NRI/Overseas Students: Have successfully completed 'A' level schooling with 50% score from Boards/Councils of Higher Education established by respective countries recognised as equivalent to 10+2 in India.
or
Have successfully completed 10 years / 'O' level of schooling with 50% score and 2 years of work experience in Prosthetic and Orthotic domain/industrial training institute certificate/Diploma in Mechanical, Electrical/Electronic Engineering.
Course Syllabus: The theoretical learning includes Basic Life Science, Materials and Applied Mechanics, Biomechanics, Physical Medicine and Rehabilitation, Orthopaedic and Amputation Surgery and Prosthetics and Orthotics Sciences. Students will get practical exposure in terms of service user management, working in rural and institutional set ups. 
Affiliation & Recognition: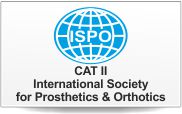 Course Intake: 12 nos
Fees: Write to [email protected]
Contact: + 91 9740487162
ADMISSION OPEN NOW
Eligibility & Admission Procedure